DE&I
Championing Diversity, Equity & Inclusion
We're talent solution specialists who share the same belief as you – diversity matters. Embracing Diversity, Equity & Inclusion (DE&I) isn't just a noble aspiration: it's the key to forging a workforce of unparalleled excellence. While keeping DE&I at the forefront of your workforce strategy may pose challenges, research has unequivocally demonstrated that HR departments that excel in DE&I are more likely to achieve outstanding results in recruiting and retention.
Together, let's unlock the true potential of your organisation by championing DE&I as the cornerstone of your success.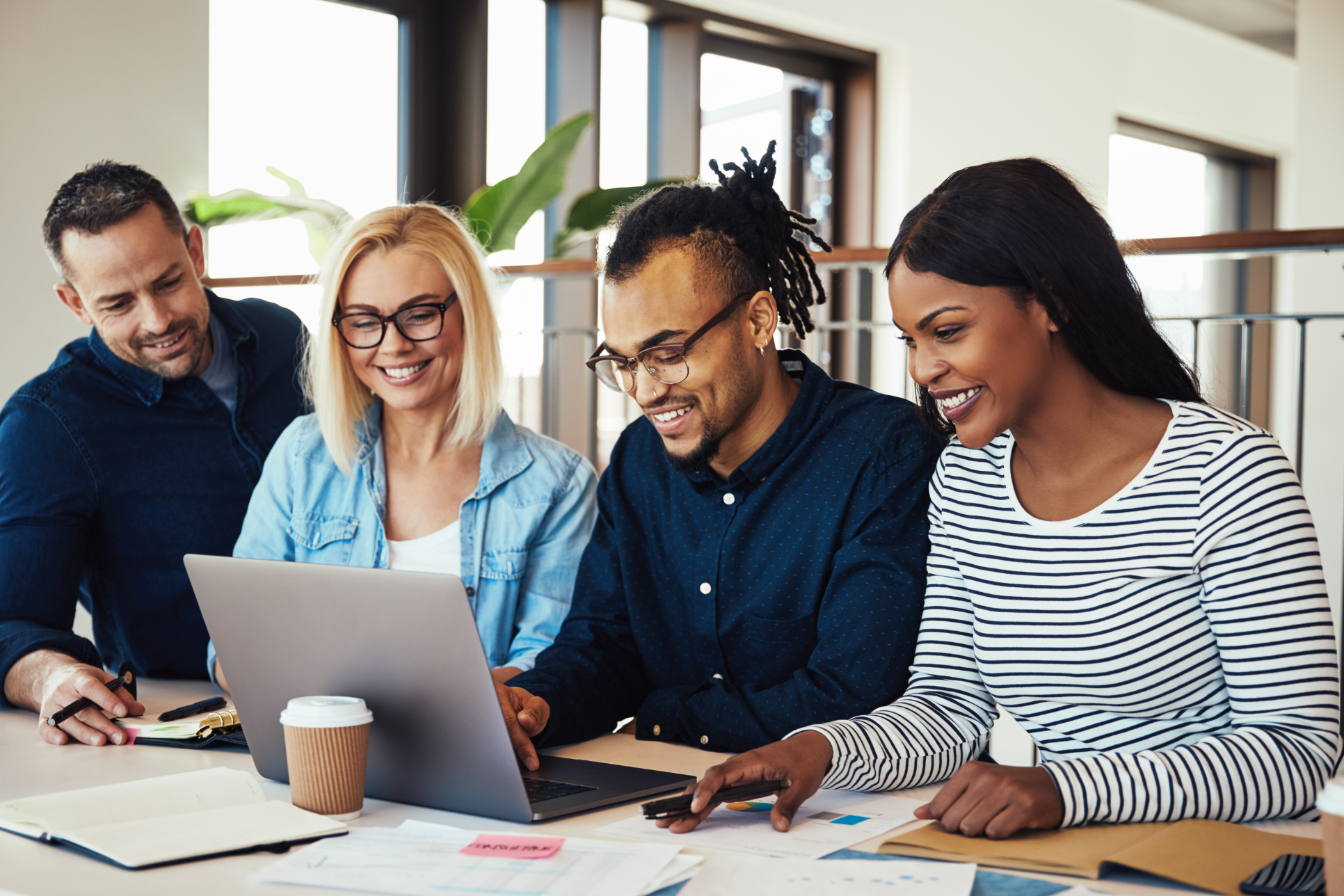 Choose talent acquisition that supports your DE&I priorities
Creating a diverse workforce isn't about hitting DE&I targets. It's about creating an inclusive culture and workplace that attracts, and is shaped by, people of all backgrounds and talents. We work with you to achieve this goal, bringing together our DE&I recruitment best practices with powerful technology that allows you to measure your success. When you begin to see growing numbers of diverse candidates at each stage of the recruitment cycle, increased retention of diverse workers and growing satisfaction rates among hires and hiring managers, you'll know you're well on your journey to becoming a truly inclusive employer that attracts the brightest and best talent from among people of all backgrounds.
CHOOSE A TALENT ACQUISITION SOLUTION
12
months of exceptional outcomes
LevelUP in action:
our recruitment capabilities with a focus on DE&I.
12
months of exceptional outcomes
Explore how we used our RPO capabilities to drive DE&I success, achieving an impressive 81% diverse hires within a mere 12 months. Dive into our strategic approach that reshaped our client's recruitment process with inclusivity at its core.
Helping you overcome barriers to meeting DE&I priorities
Diversity is a top priority for many organisations, yet the majority of HR leaders do not believe they are achieving high performance in DE&I. Data gathered from McLean & Company's 2023 HR Trends Survey of 1,075 points to the following barriers to DEI progress.
Speak to us
Dedicated time for DE&I work
Creating a unified strategy
Lack of leadership support
Diversity, Equity & Inclusion consulting that solves your resourcing and time challenges
Do you need experts to work with your internal teams to put DE&I talent acquisition strategies at the heart of your recruitment, onboarding, and retention? Our consultants and coordinators can work with you to secure leadership support, benchmark your DE&I metrics, and evaluate them so they can be used to drive continuous improvement. ​​We'll also use our technology to analyse your processes, alerting you to issues such as potentially biased language in job descriptions. Thanks to our strong relationships with professional talent organisations, our Diversity, Equity & Inclusion consulting is able to open up even larger talent streams for each and every hire.
TALK TO A DE&I EXPERT
Explore our DE&I Knowledge Center
Looking for insights and advice on diversity, inclusion and equality? Browse the Knowledge Center for guides written by our DE&I experts.
Find out more
Frequently Asked DE&I Questions
Diversity
The range of human differences, including but not limited to race, ethnicity, gender, gender identity, sexual orientation, age, social/socio-economic class, education, physical ability or attributes, religious or ethical value systems, national origin, and political beliefs.
Equity
The fair treatment, access, and opportunity for advancement for all people. It requires promoting impartiality and fairness within the procedures, processes, and distribution of resources by organisations and systems.
Inclusion
The creation of a workplace culture where individuals with diverse backgrounds are respected and treated with dignity and respect and have a sense of belonging. An inclusive company celebrates and promotes respect for the variety of talents, beliefs, backgrounds, and ways of living of its workforce.
As a minority owned business, we make DE&I our way of doing business. It would be our pleasure to embed our DE&I consulting services or dedicated resources within the solution your business needs. We take a holistic approach to helping our clients build recruitment strategies that have a lasting impact with DE&I at the forefront.
Yes, we engage with a number of organisations to support diversity, equity, and inclusion. A few examples include The Mom Project, Roleshare, and Disability Confident. We are also members of SHRM, SIA, and APSCo which delivers support and market intelligence to members around the world.
Ready to champion DE&I?
Simply fill in the form and a member of our team will be in touch.