What is Recruitment Process Outsourcing or RPO?
Recruitment Process Outsourcing, also known as RPO, involves hiring experienced professionals to manage part or all of your recruitment process. RPO partners handle a wide range of tasks from sourcing and screening candidates, conducting and scheduling interviews and reference checks, to selecting and onboarding new hires. This team of experts acts as an extension of your current team to aid in achieving and exceeding your talent acquisition goals.
Why Choose an RPO?
Many organizations turn to RPO as a solution when they face various hiring obstacles such as staffing challenges, talent shortages, and limited resources. With LevelUP, our team will form a strategic partnership with you to provide expertise in a wide range of recruitment needs. From candidate sourcing to onboarding, LevelUP provides a seamless recruitment process. By embedding our expert team within your organization, you can depend on our expertise to reach your demanding talent acquisition goals.
While there are numerous benefits to enlisting an RPO provider, some of the most cited are:
Access to industry expertise
Enhanced DE&I initiatives
Extensive talent pools
Scalable hiring capacity
Access to innovative hiring technology
Reduced time-to-fill
Compliance and risk-mitigation
What is the difference between RPO and staffing?
There are many differences between RPO partnerships and traditional staffing services, the main difference being an RPO's level of collaboration, strategy, and commitment to the client's goals. Agency staffing is transactional and focused on short-term staffing needs rather than the strategic partnership approach of RPO. Agencies act as intermediaries between organizations seeking to fill temporary staffing needs and work on numerous roles across multiple organizations without commitment to filling a role.
On the other hand, RPO recruitment teams work exclusively for their client and are dedicated to filling their specific client's desired roles.
RPO engagements often involve a commitment and are aimed at improving the overall efficiency, quality, and effectiveness of the recruitment function. Additionally, RPO providers work closely with the client organization to understand their forecasted hiring needs, develop customized solutions, and uphold employee brand.
In addition to providing value-added services, RPO providers propose a cost-effective solution for organizations seeking recruitment assistance. By overseeing the entire end-to-end recruitment process, RPOs offer cost-reduction benefits, whereas staffing agencies primarily focus on placements, which can result in higher costs for organizations.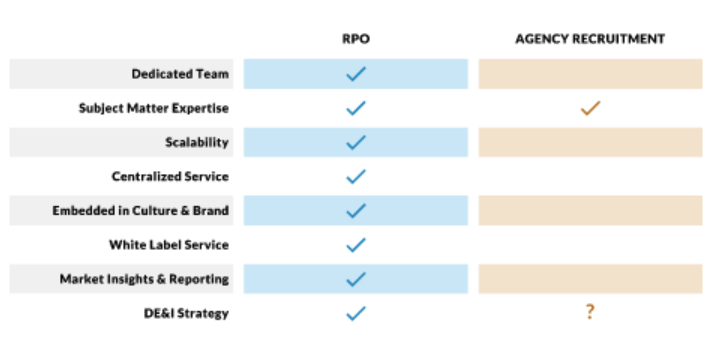 While both RPO solutions and staffing agencies help to fill roles quickly and efficiently, RPO solutions do so while also enhancing their client's employer brand and using an informed talent strategy.
What are the different types of RPO?
RPO models are designed to solve a diverse range of recruitment challenges. Depending on the unique needs of your organization, RPO solutions can be adjusted to help your organization in the different stages of your talent acquisition journey. To help navigate the many options that are available, below are several RPO models to consider.
End-to-end RPO or Enterprise RPO, a full-cycle solution that involves completely outsourcing every component of your organization's internal recruiting function.
Project RPO, a project-based model that applies an end-to-end solution to a specific project or situation. For example, if your organization is opening a branch in a new location and needs to hire new salespeople.
Recruitment on Demand is a project-based or on-demand solution where the duration is based upon your needs. Many view this as a "rent-a-recruiter" or "embedded talent" option, where you can tap into the expertise of industry-specific recruiters for as long as you require driving your business forward.
Selective RPO, is a solution that addresses specific components of your recruitment lifecycle. Selective RPO allows organizations to retain responsibility of their in-house recruiting strengths, while outsourcing hiring weaknesses.

Embedded Talent and Sourcing as a Service (ETSaaS) is an additional component that can be included as part of Selective RPO, providing organizations with an extended range of recruitment capabilities.

Total Talent Solution, a hybrid of end-to-end RPO and outsourced employee management, a total talent acquisition model brings together recruitment and management of all types of talent, including:

Full-time employees
Independent contractors
Contingent workers
Gig workers
Temp-to-hires
Deciding which RPO solution to move forward with involves a thorough examination of your hiring needs.
Are RPO Solutions actually cost-effective?
A common question that organizations face when considering an RPO partner is "How much does an RPO solution cost?"
Unfortunately, there is no one-size-fits-all answer to this question. The cost of outsourcing your organization's recruitment functions will depend on several factors, such as:
The length of your hiring project
Your organization's hiring needs and additional business goals
The type of RPO solution applied
Recruiter compensation, unique to each RPO service provider
With that said, RPO Providers use common payment models to price their programs. The key to understanding RPO pricing is recognizing the cost drivers behind these various payment models.
The management fee model, wherein a recurring management fee is charged, most typically monthly, provides a baseline for the RPO provider's continuous recruiting efforts.
The cost-per-hire model, wherein both the client and RPO provider must reach an agreement on a placement fee for each successful hire.
The management fee plus cost-per-hire model combines a monthly management fee with the cost-per-hire model. With the management fee providing a baseline for the continuous recruiting efforts of the RPO service provider, an incremental charge is added for each successful placement.
The cost-per-slate model, wherein a fee is charged for each candidate slate presented to the client's internal hiring department.
The cost-per-transaction model, wherein a fee is charged for a specific process or project.
Typically, with RPO Solutions, the efficiency of hiring quality talent and streamlining the process with an RPO partner can result in significant cost savings compared to average agency fees.

What should I look for in an RPO partner?

Selecting the wrong RPO partner can result in cultural clashes, poor brand understanding, and a lack of communication. This can negatively impact your hiring needs and have a damaging effect on your employer brand.
Given the challenges an organization can face if partnered with the wrong RPO provider, it is important to consider the following questions when researching potential RPO partners:
What challenges exist in your current recruitment infrastructure?
What should your talent strategy look like following RPO?
Which model will enable you to achieve your goals?
Do you need an on-site or off-site RPO solution?
How will your organization be kept in the loop?
What kind of technology will the RPO provider use?
Is the RPO provider familiar with your industry?
How will RPO providers learn about your organization and leverage your Employer Value Proposition or EVP?
How will RPO providers work with your hiring managers and internal team?
What kind of experience will RPO provide to candidates?

About LevelUP
LevelUP HCS is one of the largest privately owned certified minority business enterprises (MBE) and RPO talent solution providers in the marketplace today. Unlike other agencies, we focus on providing sustainable talent solutions that cultivate your employer brand, protect DE&I in the workplace, and exceed your company goals.
We provide industry and subject matter experts to help your organization thrive and meet the evolving talent and HR challenges you may face. As a certified diverse supplier, we can provide Tier 1 credits for your organization.
Our DE&I efforts and best-in-class RPO solutions have resulted in numerous awards and recognitions among the top providers in the nation and around the globe.
ClearlyRated Best of RPO Client Satisfaction
HRO Today Baker's Dozen
RPOA Silver Member
SIA