As the modern workplace undergoes constant change, employers must adapt their talent management strategies to stay competitive. Talent mobility has emerged as an essential tool for businesses to attract and retain top talent. Talent mobility programmes are aimed at identifying, developing, and retaining employees who demonstrate the required skills, ambition, and potential to drive the organisation to greater heights. This blog post offers five compelling reasons why businesses must integrate talent mobility programmes into their talent strategy.
Why Every Organisation Needs a Talent Mobility Programme
Talent Mobility Helps Retain and Attract Valuable Employees
Employers who invest in internal mobility programmes demonstrate to current and future employees that there is room for growth and development within the organisation. This approach also communicates to employees a sense of investment and support in their individual career paths. Highlighting internal mobility programmes during the recruitment process can also be a selling point, attracting talent who are seeking career development opportunities.

Talent Mobility Keeps Organisational Wisdom and Knowledge Within the Company
When employees outgrow their role, moving them into another position within the organisation offers a means to retain the training investment and organisational knowledge and wisdom they hold. This can be particularly valuable for companies that have complex or specialised operations. Keeping these employees within the organisation means that the knowledge and experience they bring to the table stays within the company.

Talent Mobility Leads to an Agile Workforce
Organisations that embrace talent mobility also benefit from having an agile workforce. Employees who are given opportunities to grow and advance their careers within the company are more likely to be engaged and motivated to take on new challenges. This also means that companies can leverage their existing talent for new projects and initiatives, leading to a more efficient and productive workforce.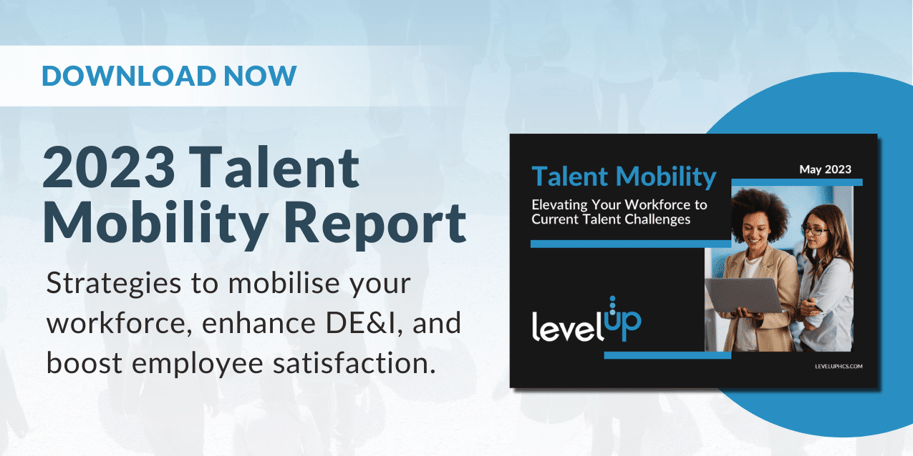 Talent Mobility is a Means to Support Diversity, Equity, and Inclusion (DE&I)
Companies can use their talent mobility programmes to support DE&I objectives. By providing opportunities for employees from diverse backgrounds to grow and advance their careers within the company, employers can create a more inclusive workplace. This approach can also help to mitigate unconscious bias and ensure that talent is recognised and developed based on merit.
Talent Mobility Contributes to Succession Planning
Talent mobility programmes can also serve as a key component of succession planning, ensuring that the organisation has a strong pipeline of leaders and skilled workers who can step into new positions as needed. Through talent mobility, companies can prioritise identifying high potential employees early on and offering them targeted development opportunities to help them build the skills and experience necessary for future success within the company.


Successful Talent Mobility Is Driven by Talent Strategy
Talent mobility does not happen by chance—it must be a strategic priority for the organisation. Talent strategy involves uncovering the company's talent needs, identifying areas for improvement and growth, and offering opportunities for employees to develop their skills in those areas. A successful talent strategy will encourage employees to invest their time and effort into learning new skills, improving their performance, and furthering their career goals.
LevelUP offers unique, timely talent solutions to drive diversity and agility within your workforce. With expansive coverage of EMEA, North America, and APAC plus an impressive team of experienced professionals—you can trust our ability to deliver exceptional candidates equipped with the necessary acumen for any opportunity. Our comprehensive processes ensure that we are up to date with the latest technologies, skillsets, and market industry trends. To find out more, connect with a member of our team.